Systematic Handling of Selling Obstacles
By Rowen Untivero
Systematic Handling of Selling Obstacles by Rowen Untivero
PROGRAM CONCEPT       



NOT ALL OBSTACLES ARE OBJECTIONS! NOT ALL PRICING QUESTIONS ARE OBJECTIONS!
The seminar helps participants distinguish between the different types of obstacles. Only in so doing, will they be able to handle each effectively. By anchoring on selling science frameworks and principles as well as using a logic-based client-centric handling process, supplemented by real-cases in easier-to-understand-and-retain story format, participants gain a systematic and clear approach to addressing selling obstacles. Combine a visual framework-matrix of the critical knowledge being passed on followed thru with skill drills on both obstacle diagnosis and handling, learning effectiveness is supercharged and made enjoyable at the same time.


PROGRAM OVERVIEW

Preliminary Part: Anchoring on Solid Foundation- Where Selling Obstacles Come From


Exploring the 'Null Action Zone'

Retracing steps to the source of obstacles- failed execution of the selling equation

Complication Avoidance: Compounding the mistake with new ones will mutate the problem to a much bigger one.
Key Benefits for Participants
Each participant will: 


gain knowledge of obstacle handling frameworks and processes rooted in buyer-psychology

understand each of the different types of obstacles 

acquire skill seed implants particularly in the determining the nature of the obstacle and also in handling such with precision

be able to immediately apply framework, process and skill implants in the skill drill laboratory 

earn confidence points that multiplies individual effectiveness
Key Benefits from Companies
The company will gain:        
increase in sales transaction closing ratio

minimization of lost revenue opportunities

(executed well) does not erode the company's negotiation stance should it come to that

better customer satisfaction and loyalty at a profit

financial advantages from a more effective and efficient sales handling of customers

(when the other non-sales team members also attend) higher level of interdepartmental understanding, cooperation and support for one another
Who Should Attend
This course should be required for every sales person, young or old, inexperienced or a veteran still who are still using traditional objection-handling methods. Failure to update their methods is too much of a risk and far more expensive in terms of lost business opportunities for any company to bear. The seminar provides the frontline veteran an unlearning, learning and relearning opportunity to evolve directionally away from career extinction. On the other hand, the course provides the sales neophyte, a powerful head start against reinvented selling veterans and hotshot novices.  This is also recommended to personnel who need to sell their proposals and ideas within their companies or conglomerates and to win management, team or peer approvals. 
Methodology
Interactive Lectures

Real Stories (Sales Cases)

Buddy drills

Class-observed and critiqued Role Plays

Game-contests

Matrix-tool Guide Familiarization

Class Discussions
Speaker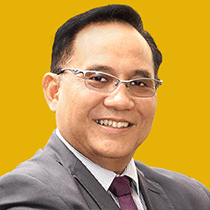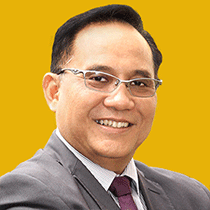 Rowen Untivero
Partner and Chief Sales Strategist
A veteran of Training, Coaching and Consulting for a quarter of a century and with almost 3 decades of successful sales, buying and negotiation practice, injector of science in the fields of selling, negotiation, sales management, business-to-business marketing as well as management in general via his original framework, processes and tools.

He has contributed much science to business as the pioneering developer of the world's first mathematics of negotiation, the strategic nego-mapping methodology, reading and projecting verbals and tones, systematic account development strategies, tools in a business-to-business setting,  sales management framework, simplified problem solving, effective coordination, the 4 modes of management, conflict resolution, problem solving, effective coordination and smoothen communication in organizations and many more.

He provides a 360-degree and multi-dimensional set of perspectives from that of the CEO, middle management, down to that of the front-liner and staff member and has had exposure in almost every industry.

He graduated Cum Laude at the University of the Philippines, Diliman, with a bachelor's degree in BS Economics,; supplemented by MBA studies in De La Salle University, an Executive Education Program on Strategic Business Leadership from the University of Chicago Booth School of Business-Illinois, USA.

He was Country Manager for Alcatel Mobile Phones, before moving to entrepreneurship.