30th Business Model Design and Innovation: Version 2.0
By Josiah Go
 
There has been a growing interest in business model, what it is and how does one go about innovating their business model. This course will show you concepts, tools, frameworks and methodologies behind the 11 building blocks of Mansmith Business model Map   It is best to bring the entire cross functional team for immediate alignment. 

Registration includes 3-month access to the 55 learning videos in 4k quality at www.continuum-edu.com.
Schedule
Business Model Design and Innovation
February 28, March 2, 4, 7 & 11
9:00AM - 12:00PM

Who Should Attend
Cross-Functional Teams
Methodology
Lecture, Small Group Discussion, Reflection, Short AVP, Q&A

Speaker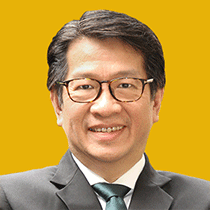 Josiah Go
Chairman and Chief Innovation Strategist
Josiah Go is the Chairman and Chief Innovation Strategist of Mansmith and Fielders, Inc., and Chairman of Waters Philippines (the market leader in the direct selling of premium home water purifiers in the Philippines). He is Chairman / Vice Chairman / Director of over a dozen companies.Known as one of the Philippines' most respected marketing gurus, he is the most awarded business educator of the Philippines having been recognized as one of the Agora Awardees in 1994, one of the Ten Outstanding Young Men (TOYM) of the Philippines in 2001, one of the Ten Outstanding Young Persons (TOYP) of the World in 2002 (the 1st and only Filipino in Business Education given by World JCI in a competition of over 1,000 TOYMs), and one of only two Lifetime Achievement Awardees by the Association of Marketing Educators (2007), the youngest marketing educator to be bestowed this honor. He was also given the Brand Leadership Award during the World Brand Congress in India (2009). His accomplishments was recognized by the international community where he has been included in the 10th edition of the International Who's Who of Intellectuals (England).He is also the first Filipino to have completed the Blue Ocean Strategy qualification process in Blue Ocean Institute in INSEAD, France and is the first in Southeast Asia to have taught this as a 3-unit, full semester course in a university.  He specializes in the fusion of marketing and innovation using the lenses of data-driven entrepreneurship and teaches advanced marketing subjects like Market-Driving Strategies, Business Model Innovation, 5 Skills of Master Strategists, Marketing Innovation, Mastering Innovation and Defense Strategy. He has given talks and facilitated over 1,000 marketing seminars in the Philippines and internationally to teams in diverse industries, in different situations and contexts.A thought leader with 18 bestselling and record-breaking marketing and entrepreneurship books, Josiah has taught at the De La Salle and Ateneo Universities. He is an Executive Scholar of the Kellogg Business School (in Marketing and Sales Management) as well as the MIT Sloan (in Strategy and Innovation). He also took advance marketing programs at Harvard, Wharton and at the London Business School. His industry affiliations include being National President of the Philippine Marketing Association (1991), Chairman of the Direct Selling Association of the Philippines (2002), National President of the Association of Marketing Educators (2004-2005).   He continues to be involved in various advocacies aimed at youth empowerment and entrepreneurship namely, the Young Market Masters Awards (YMMA), Mansmith Innovation Awards, Day 8 Business Academy for SMEs, and the MarkProf Foundation.