Practical Marketing Strategy
By Josiah Go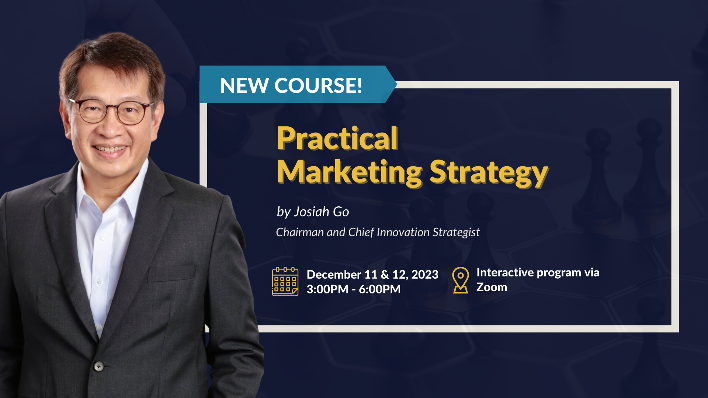 Join us for a transformative two-day seminar, strategically timed for yearend's last-minute check and review, split into half-days. This unique opportunity will empower your marketing team with essential strategic insights and practical tools, arming them to excel in today's dynamic marketplace.
Each session offers an interactive Q&A, allowing you to address specific queries and fine-tune your strategies. Don't miss out on this crucial year-end boost for your marketing team. Register now to secure your spot and ensure your team is fully prepared to thrive in the ever-evolving world of marketing.

Day 1: Uncover the Secrets of Success and Avoid Pitfalls
Session 1: Autopsy of Success and Failures
Delve into the external factors shaping market dynamics.

Examine the internal dynamics within your organization.

Extract invaluable lessons and insights for your marketing strategy.

Session 2: Revenue Growth Strategy
Explore the key drivers fueling growth in your industry.

Craft a compelling value proposition that resonates with your audience.

Fine-tune your marketing mix and discover untapped sources of growth. 

Q&A 
Day 2: Ignite Innovation and Competitive Edge
Session 3: Innovation and Your Next Big Idea
Identify game-changing opportunities with insights into five different types of big ideas.

Decode the innovation process to drive meaningful change within your organization

Harness the power of consumer insights to fuel innovative thinking and create products or services that resonate with your target audience.
Session 4: Competing to Win
Conduct a practical performance audit to assess your current position. 

Pinpoint your real competitors and understand your marketing challenges.

Learn how to redirect your marketing mix for a winning strategy. 
                Q&A
Schedule
December 11-12, 2023
3:00PM - 6:00PM
Methodology
Lecture,  Q&A
Speaker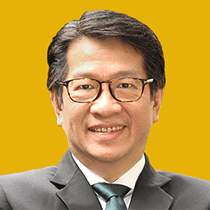 Josiah Go
Chairman and Chief Innovation Strategist
Record-breaking, bestselling author 19 books in marketing and entrepreneurship

Chairman of Waters Philippines (the market leader in the direct selling of premium home water purifiers in the Philippines) and Chairman / Vice Chairman / Director of over a dozen companies (the most recent is an Independent Director at UnionBank of the Philippines).

The most awarded business educator of the Philippines: one of the Agora Awardees in 1994, one of the Ten Outstanding Young Men (TOYM) of the Philippines in 2001, one of the Ten Outstanding Young Persons (TOYP) of the World in 2002 (the 1st and only Filipino in Business Education given by JCI International by far), and one of only two Lifetime Achievement Awardees by the Association of Marketing Educators (2007), the youngest marketing educator to be bestowed this honor. He was also given the Brand Leadership Award during the World Brand Congress in India (2009). His accomplishments was recognized by the international community where he has been included in the 10th edition of the International Who's Who of Intellectuals (England).

He is an Executive Scholar of the Kellogg Business School (in Marketing and Sales Management) as well as the MIT Sloan (in Strategy and Innovation).

He also took advanced marketing programs at Wharton, Harvard and at the London Business School.