Science of Hunter Selling
By Rowen Untivero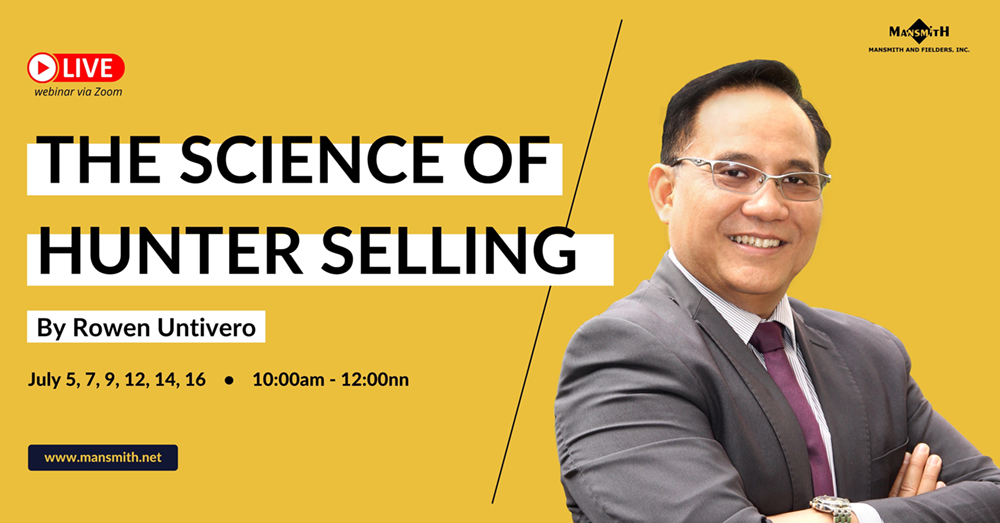 This Science of Hunter Selling capsulized integrated course provides a rare opportunity to gain valuable knowledge of each of these 5 seminars on this track. Together they provide a very holistic understanding and overview of hunter selling essentials.  Enroll now to acquire original frameworks, processes and methods developed and updated by Mansmith Partner and Chief Sales Strategist Rowen Untivero. 

Schedule
July 5, 7, 9, 12, 14, 16
at 10:00am-12:00nn

Who Should Attend
Real estate agents, life insurance agents, direct sellers, ANY sales person who sells outbound and directly to clients, Entrepreneurs;  Sales Leaders, HR/Learning and Development Managers/Officers and Support Staff who would benefit understanding the roles and competencies of their salespeople; other enrollees with intent to appreciate the holistic view are also welcome. 

Methodology
Lecture-discussions, Real-stories, Mini-workshops, Assignments, Q&A.

Speaker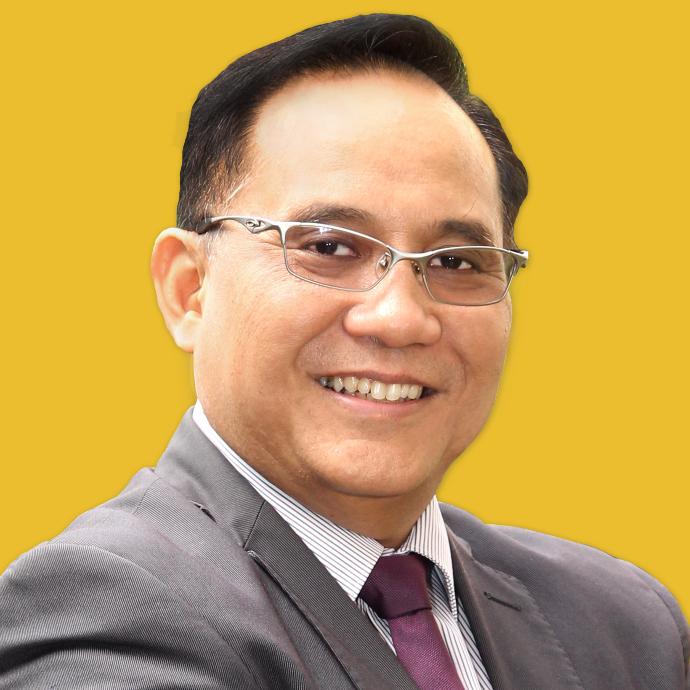 Rowen Untivero
Partner and Chief Sales Strategist
Rowen Paul Untivero is a veteran of Training, Coaching and Consulting for a quarter of a century and with almost 3 decades of successful sales, buying and negotiation practice, injector of science in the fields of selling, negotiation, sales management, business-to-business marketing as well as management in general via his original framework, processes and tools. He has contributed much science to business as the pioneering developer of the world's first mathematics of negotiation, the strategic nego-mapping methodology, reading and projecting verbals and tones over the phone or to include body language when face to face, as well as systematic account development strategies, tools in a business-to-business setting,  sales management framework, simplified problem solving, effective coordination, the 4 modes of management, conflict resolution, problem solving, effective coordination and smoothen communication in organizations and many more. He provides a 360-degree and multi-dimensional set of perspectives from that of the CEO, middle management, down to that of the front-liner and staff member and has had exposure in almost every industry. He graduated Cum Laude at the University of the Philippines, Diliman, with a bachelor's degree in BS Economics, a pinned member of two prestigious international honor societies: Phi Kappa Phi International Honor Society and Pi Gamma Mu International Honor Society for Social Sciences; supplemented by MBA studies in De La Salle University, an Executive Education Program on Strategic Business Leadership from the University of Chicago Booth School of Business-Illinois, USA, and the attendance to numerous seminars and conferences in sales, marketing, management, and leadership. Rowen is a valuable combination of being a training master, a seasoned and successful practitioner of marketing, sales and general management, an educator, a co-author, a columnist and a consultant. As a Senior Consultant and Partner in Mansmith & Fielders, Inc. apart from public seminars he has conducted, he has also been engaged in various training and consulting programs, for diverse clientele. He was Country Manager for Alcatel Mobile Phones, before moving to entrepreneurship. He is currently the Founding Director of DigiPost Marketing Inc., a narrowcasting media pioneer dealing with digital display advertising, the President of Privilege Z!, and also the Chairman & CEO of Connecting Mavens, the business development arm of the Mansmith Group.As an educator, he has taught marketing and sales subjects in Ateneo de Manila University and St. Scholastica's College. He has been sought as speaker for numerous conventions and conferences of varied industries as well as the academe. Rowen has also been director of the boards of the Advertising Board of the Philippines (ADBOARD) and Philippine Association of National Advertisers (PANA). He also became a trustee for the PANA Foundation. He was also twice Vice President of the Philippine Marketing.