Selling in a Hyper-Connected World
by Emilio Macasaet III
INVESTMENT FEE
 Single Participant: P2500

Group of 3: P5000

Group of 6: P9000
Selling in a Hyper-Connected World: How to use digital tools plus a dash of creativity to animately engage with customers in the new normal.
This 3-hour synchronous virtual learning session provides participants new perspectives and tools to pivot in the new normal. Generous case examples and video clips are presented to enhance the learning process. Includes breakout sessions and Q&A.
Module 1: The New Customer Decision Journey
The pandemic has led many buyers to alter the way they buy. Top sales performers understood this, and responded much better than their not-so-performing peers. They learned how to streamline the buying process by capturing insights and integrating them back to their sales approaches.
1. Creativity in the new normal
2. The New Customer Decision Journey (CDJ)
3. How to formulate sales strategies from the new CDJ
4. Case Illustrations
Module 2: The Digital Story Telling
Remote and blended customer engagement pose a great challenge to salespeople who are not digitally prepared. Today, top sales performers don't sell. They tell a story. They use digital tools to gather data, obtain insights, and craft a compelling narrative for their customers.
1. How sales organizations leverage on digital tools
2. StoryTelling versus Selling
3. Guide to Digital StoryTelling
4. Case Illustrations
Speaker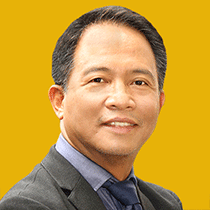 Emilio Macasaet III
Partner and Chief Channel Marketing Strategist
Emilio "Bong" Macasaet is the author of the best-selling, Distributor Management: Winning Tools in Managing Distributors as Partners, the first ever book on distributor management in the Philippine Market, 6 Steps To Effective Key Account Management, and the newly launched book, Fundamentals of Trade Marketing.
He brings with him very extensive and intensive corporate experiences gained from both local and multinational companies like Gillette, Nestle, L'Oreal, Metrolab and RFM Corporation where he was Vice President of Sales & Distribution division.
He conducts various sales seminars, consulting, and training programs in most parts of Asia-Pacific and Middle East. He obtained his MBA from Ateneo De Manila University and took his Doctor in Business Administration at De La Salle Graduate School of Business where he was a former MBA professor in Distribution Management.
Bong also attended an executive program on Marketing Channels at Kellogg School of Management, Northwestern University, Chicago; and other special programs at Singapore Institute of Management (SIM), Singapore, and Burke Institute, USA.
He partly writes a column in Business World newspaper and is currently a professor in marketing management at the Ateneo Graduate School of Business (AGSB).