HIGHLIGHTS OF THE 14TH MANSMITH MARKET MASTERS CONFERENCE (MMC)
Empowering 4,000 Educators: Be a Marketing Godparent Today & Get a FREE ticket to the 2024 Marketing Conference of the Year!
Courses Offered
EXECUTIVE EDUCATION IN MARKETING, SALES, STRATEGY & INNOVATION
OVER 70 COURSES OFFERED -- the largest marketing offering in Asia-Pacific

By applying the marketing knowledge we learned from regularly attending trainings by Mansmith & Fielders, we were able to grow the sales of Bioderm Family Soap 500% in five years. This, in a category that is growing by less than 5% a year. What's more, our brand now has its own slice whenever a pie chart is presented to show market share. Whereas before, we were anonymously lumped under the slice called "others". Thanks to Josiah. The one on one session with you was especially helpful!
100% new and fresh concepts. It's like finally discovering the "missing link" to go full blast in capturing your potential market.
Good structure of teaching, Step by step explanation helps me understand the Business Model Building blocks. There are variables or elements to consider in building a business model. The importance of a business model that links one elements to another, and can show the holistic view of a company, it gives me the understanding of a company through a 1 page documents.
I liked the overall objective of this course to equip a sales person / account manager the right tools to face the client correctly. There is no universal, one size fits all approach to a challenge and that's where the importance of science of selling comes in.
The content is completely fantastic, straight to the point & easier to understand by using examples which is different approach, unlike the old/traditional approach w/c is theoretical.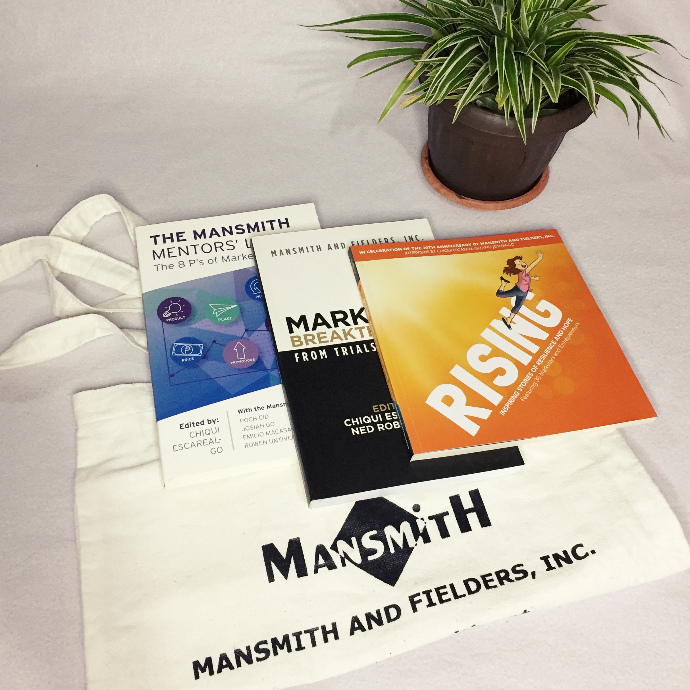 Good news!
Your favorite books by the Mansmith mentors are now available online!
Grab copies today through our e-commerce stores.
---
Don't miss our next learning events!
Join our newsletter and be updated with our new projects.
YEAR-LONG PLATINUM PARTNERS








INSTITUTIONAL PARTNERS


PRINT MEDIA PARTNER

Join our advocacies, be a Mansmith Partner or Sponsor!