Channel Design and Innovation: How to Design and Innovate Channels of Distribution
by Emilio Macasaet III
PROGRAM CONCEPT
This online training program teaches participants how to design and innovate the right distribution channels by applying the design thinking process. Each module provides participants with frameworks, templates, and illustrative cases to facilitate more productive and insightful training sessions.

Module 1: Channel as Source of Competitive Advantage
 1. Introduction: Channel landscape in the New Normal
2. Concepts and Definitions: Channel and Design
3. Product-based Differentiation versus Service-based Differentiation
4. Players in the Channel
5. The New Normal: Omni-shoppers and Omni-channels
Module 2: The HOW of Buying: Service Output Demands (SODs)
 1. Channel Design & Management Framework
2. Design Thinking Process: Application to Channel Design 
3. The 3 levels of Innovation
4. The HOW of Buying: How Customers Want to Buy and Service Output Demands (SODs)
5. Case Examples: Bank, Online Shoe Store, Online Supermarket, Online Pawn Shop
6. Procedures in Designing and Redesigning Channels (Physical and Online)
7. Case Examples: Jewelry Stores (Online and Physical), Direct Selling Company
Module 3: The SIFCO: Channel Functions and Alignment 
 1. Channel Activities
2. Channel Functions: SIFCO
3. Case Example: Furniture Store
4. How to Align Gaps in Channel Activities and Benefits
5. Case Example: Personal Computer Brand and Retail Store (Online and Physical)
Schedule
June 16, 21, 23, 28, 30, 2022
9:00AM - 12:00PM
Methodology
Lectures, Q&A, breakout group discussions / plenary presentation 
Speaker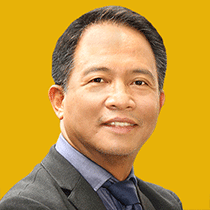 Emilio Macasaet III
Partner and Chief Channel Marketing Strategist
Emilio "Bong" Macasaet is the author of the best-selling, Distributor Management: Winning Tools in Managing Distributors as Partners, the first ever book on distributor management in the Philippine Market, 6 Steps To Effective Key Account Management, and the newly launched book, Fundamentals of Trade Marketing.
He brings with him very extensive and intensive corporate experiences gained from both local and multinational companies like Gillette, Nestle, L'Oreal, Metrolab and RFM Corporation where he was Vice President of Sales & Distribution division.
He conducts various sales seminars, consulting, and training programs in most parts of Asia-Pacific and Middle East. He obtained his MBA from Ateneo De Manila University and took his Doctor in Business Administration at De La Salle Graduate School of Business where he was a former MBA professor in Distribution Management.
Bong also attended an executive program on Marketing Channels at Kellogg School of Management, Northwestern University, Chicago; and other special programs at Singapore Institute of Management (SIM), Singapore, and Burke Institute, USA.
He partly writes a column in Business World newspaper and is currently a professor in marketing management at the Ateneo Graduate School of Business (AGSB).