Market-Driving Strategy
By Josiah Go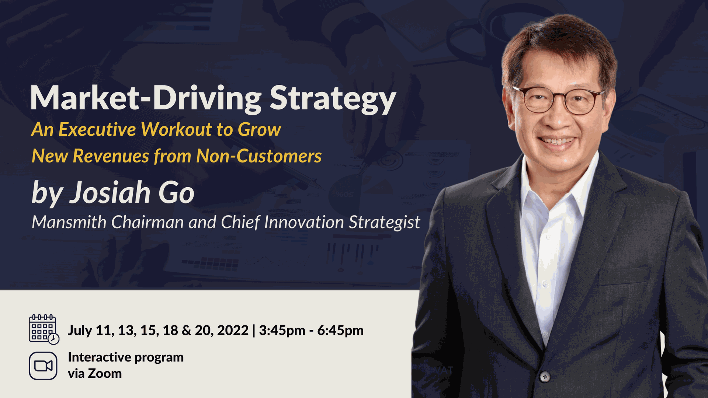 An Executive Workout to Grow New Revenues from Non-Customers.

Why 99% of Marketing Plans Are Inadequate ?

Without a market-driving strategy, a marketing plan focusing solely on the served market is incomplete as it risks losing the underserved or unserved markets (sometimes even bigger than current customers) to other competitors.

Thus, market-driving strategy should be viewed as a source of innovation and growth for existing businesses as well as a new and major revenue source of firms. 
Session 1: From Market-Driven to Market-Driving: Decoding 9 Non-customer Groups
4 major types of market orientation

What MDS is and is not

4 levels of differentiation 

5 thinking traps holding you back and options to counter each one of them

3 pillars of Market-Driving Strategy

7 game changing principles 

Conducting a practical performance audit

4 sources to grow noncustomers 

Case examples from beer, fitness center, gaming, tours, toys, car rental, drugstore, church, agriculture, automotive, bank, medical device, drugs, lighting, retail, training, fast food

Group practice exercise 

Q&A 
Session 2: Combining Voice of Non-customers and Voice of Enterprise 
5 big consumption barriers and how to extract real answers from Pinoys and Pinays 

Insighting for new truths

Case examples from pharmaceutical, home fitness, car rental, training, automotive, supermarket, school, bike, salon, pants, steak, cat food, detergent, memorial lots

Group practice exercise 

Q&A 
Session 3: 8 ways To Do Ideation Targeting the Underserved and Unserved Markets 
Why basing core competencies is inadequate (1 of 8 methods)

How to determine the best idea? 

Case examples from gaming, personal care retail, airline, shoes, beverage, TV show, furniture, ecommerce, planner, newspaper,, ice cream, cruises, child care, alcoholic drinks, telecom, biscuits, hospital, supermarket, consumer health, facial care, intimate wash, packaging, school, restaurant, construction, parking lot, cinema, car dealership, watch, slippers, cement, mining, office supplies, apparel, medical clinic, event supplier, ecommerce 

Group practice exercise 

Q&A 
Countries Included: China, Columbia, Germany, India, Japan, Philippines, Sweden, USA

Testimonials: 

"I found the New Demand Wheel of Josiah Go's Market Driving Strategies a very useful tool. It provides avenues for us to see a multitude of possibilities not considered before and bring the business to an entirely new level." (National Category Marketing Manager, Coca-Cola Bottlers)
"100% new and fresh concepts. It's like finally discovering the "missing link" to go full blast in capturing your potential market." (Marketing Officer, BPI)
"Market-Driving Strategies is like the "Holy Grail". This may give solutions to both big and small companies' desire to remain profitable in their respective industries." (Territory Sales Manager, San Miguel Brewery)
"This seminar is very mind-engaging and will help you detach yourself from your usual, you-thought-right strategy, and think out-of-the-box." (Category Manager, Tupperware)
Schedule
July 11,13,15,18, 20, 2022
3:45PM - 6:45PM
Who Should Attend
Progressive thinking marketers, and entrepreneurs who need or want to grow new revenues. 
C Suite executives who are unhappy with traditional ways of doing "strategic" planning.
CFOs who want to get out of traditional price and promo-driven brand switching tactics.
Methodology
Lecture, Short Video, Pre-Reading, Small Group Discussion, Application Exercise, Reflection, Q&A.

Speaker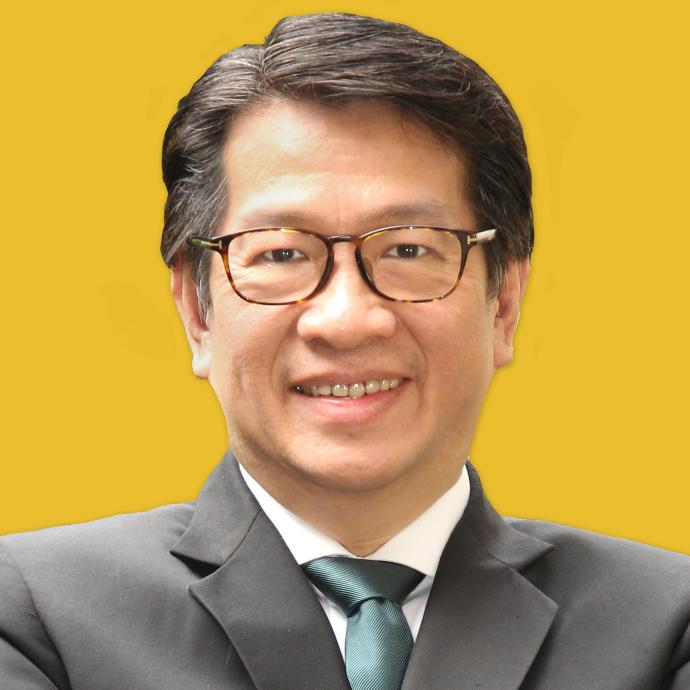 Josiah Go
Chairman and Chief Innovation Strategist
Chairman and Chief Innovation Strategist of Mansmith and Fielders, Inc.

Independent Director of Union Bank of the Philippines 

A thought leader with 18 bestselling and record-breaking marketing and entrepreneurship books

The most awarded business educator of the Philippines (Ten Outstanding Young Men (TOYM) of the Philippines in 2001, Ten Outstanding Young Persons (TOYP) of the World (USA), Lifetime Achievement Awardees, Brand Leadership Award (India), Who's Who of Intellectuals (England). 

An Executive Scholar of the Kellogg Business School (in Marketing and Sales Management) as well as the MIT Sloan (in Strategy and Innovation). 

Took advance marketing programs at Harvard, Wharton and at the London Business School.

Pioneer Blue Ocean Strategy practitioner