Understanding Consumer Behavior and Psychology in Marketing
by Chiqui Escareal-Go
Take advantage of this special course happening on February 10 & 11!
This short course looks into how consumer beliefs, perceptions and biases influence choices, or purchase and usage decisions by applying behavioral theories and concepts.   With this understanding and the tools presented here, the marketer is able to formulate marketing, sales and implementation plans, product/service or user design, among others, that are able to guide the decision making process of the consumers who are more often irrational than intentional.  This process is done with an awareness of consumer psychological risk taking and biases and a scientific design for experimentation.  
KEY BENEFITS TO PARTICIPANTS
Participants will:

Find new ways of understanding customers who might not be even aware of their own behaviors or desires

Be able to craft experiments  and different ways of implementing marketing and sales ideas

Develop critical thinking skills while realizing occurrences at both macro and micro levels

Appreciate their own ways of learning, thinking and doing via better self-awareness and empathetic openness to each others' differences or biases
KEY BENEFITS FOR COMPANY
The sending company will:
Benefit from the new ways their teams can produce new ideas and new ways of executing 

Have more customer-centric teams with deeper understanding and clarity on providing total  solutions to marketing and sales problems

Have a team with higher critical thinking and better insighting approaches                                  
Included Industries
Airline

Appliance and department stores

Bicycles/Car

Charity 

Digital Photography

E-commerce

FMCG

Food and Beverage

Insurance/Investments

Lottery/Gambling

Media

Medicines and Vaccinations

Military

Mobile phones

Restaurant

Sin Products

Supermarket

Watches
Schedule
February 10 & 11, 2022
9:00 am - 12:00 nn
Who Should Attend
This program is ideal for marketers of all levels who need new lenses in crafting ideas to increase sales, and effortlessly connect the consumer and the brand.  Sales teams  or change management groups can also benefit from the behavioral science and psychology concepts to be discussed.

Methodology
Besides the lectures with case examples, there will be pre-work, class discussions and workshops, for immediate application.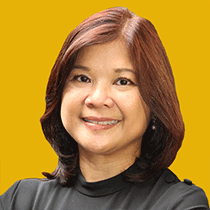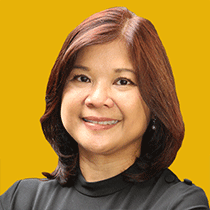 Chiqui Escareal-Go
CEO and Chief Behavioral Strategist
Co-author/editor of 9 marketing and entrepreneurship books

Former Chair of the Women's Business Council PH 

Finished the 1-year Advanced Management Program (IESE Business School New York and Barcelona)

Executive Scholar in Marketing and Sales (Kellogg Business School) 

Took advanced marketing programs at Columbia Business School (Ceibs campus), Harvard Business School, University of California-Berkeley, IESE (New York) 

Certified Master Coach (by the Behavioral Coaching Institute) and Certified A.I. Training Facilitator (by Company of Experts USA) 

One of the Top Filipina Entrepreneurs 2011 (Trailblazer category) 

Go Negosyo Enabler Awardee 2014; ASEAN Women Network Awardee 2015 

Has an M.A. in Anthropology, University of the Philippines (thesis pending)